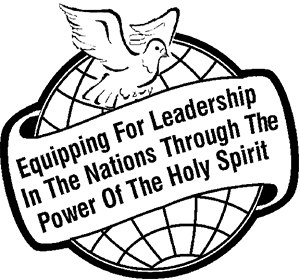 Barnabas Bulletin ~ 0229
WHAT IS FAITH?
In recent times I have been meditating quite a lot on the subject of faith.
Do we really understand what faith is?
Romans 10:17 tells us that "faith comes by hearing ("hearing, the sense of hearing, and also, the thing heard" – Bullinger's), and hearing by the word ("that which is spoken; saying, speech, discourse, a declaration, command or promise" – Bullinger's) of God".
"Faith comes by hearing." This tells me that it is very important that we know and recognize how and when God is speaking to us today. It is absolutely essential to know God's voice, for that is how faith is firstly generated within us . . . "and hearing by the word" is meaning the present tense, 'now' voice of God. That "hearing by the word" will always be confirmed by the principles of Scripture. Trying to get faith any other way only leads to presumption. Receiving and developing faith in our lives is very important for us, because the Bible declares: "But without faith ("faith, i.e. firm persuasion, the conviction which is based upon hearing, not upon sight, or knowledge; a firmly relying confidence in what we hear from God in His Word" – Bullinger's) it is impossible to please Him, for he who comes to God must believe ("be persuaded, to rely upon, to trust. The New Testament conception of faith is (i) a fully convinced acknowledgment, (ii) a self-surrendering fellowship, (iii) a fully assured and unswerving confidence" – Bullinger's) that He is, and that He is a rewarder of those who diligently ("search out") seek Him" (Hebrews 11:6).
TRUE FAITH COMES AS A RESULT OF HEARING FROM GOD
True faith comes as a result of hearing from God ~ in whatever way He chooses to speak to us. This is why Prophetic Ministry is so important for us.
Prophetic Ministry is all about hearing, recognizing, knowing and then obeying the voice of God.
The New Covenant Revelation that Jesus brought to us is made very real as we "hear what the Holy Spirit is saying to us." Jesus also taught us: "'But he who enters by the door is the shepherd of the sheep. To Him the doorkeeper opens, and the sheep hear His voice; and He calls His own sheep by name and leads them out. And when He brings out His own sheep, He goes before them; and the sheep follow Him, for they know His voice. Yet they will by no means follow a stranger, but will flee from him, for they do not know the voice of strangers.' Jesus used this illustration, but they did not understand the things which He spoke to them" (John 10:2-6). Jesus makes is very clear that "His sheep hear His/My voice" (John 10:27).
Do WE understand what Jesus is saying here?
Without the Holy Spirit of Truth in our lives we will never know or understand the things that Jesus taught. Seeking to recognize and know the voice of God, Jesus, the Holy Spirit is the key to having that faith which sees God coming through for us when we exercise that faith which originally comes from our hearing His voice. We only have to read Hebrews Chapter 11 to see what true faith can accomplish ~ in spite of the negative opposition we face.
A FEW OF MY EXPERIENCES
This has been my experience over many years of my Christian walk with Jesus. When I was just 18 years of age, He spoke to me these words: "If you will get to know My voice, and will do what I ask you, there is nowhere in this world where you and I cannot go together ~ and we not be successful." As one who grew up with a failure complex, this was indeed very good news for me. So much so, that it has been my priority in life to know when God is speaking to me. As a result I have heard His voice many times, which had opened up the world for me to minister in many nations, some many times.
In 1995 God spoke to me that I was to focus my preaching ministry (from that point on) on teaching, developing and releasing people in the Prophetic Ministry. I obeyed that and over the years it has been my joy to witness multiplied thousands of people being released into the Spiritual Gifts and Prophetic Ministry. I discovered that there is an appalling ignorance in most churches on the Prophetic Ministry of hearing the voice of God in the now and releasing the Spiritual Gifts to bring people into their God-given calling, as well as to a much greater maturity in the purposes of God. The neglect of the developing the Prophetic Ministry has caused multitudes of Christians to doubt the voice of God in their lives personally ~ and robbed them of a more effective usefulness to the purposes of God. I know when God would speak to me when I was a young Christian, that other Christians would say to me, "Oh, be careful, Rodney; you might have heard the wrong voice." Their negative responses caused me much concern.
At the end of 1999, God spoke to me again and asked me to resign all my church positions (I was pastoring at the time), and to step out and live totally by faith. That was a big challenge for me ~ and the pastor's salary suddenly became a very 'secure' feeling. But we knew the voice of God enough to know that He would provide for us. So we resigned and stepped out in total faith with our lives and ministry. I know when we actioned our decision and resigned from all our church positions, I literally felt something snap right across my chest ~ and we stepped into a whole new realm of faith with Jesus from that point on, which still continues today. We commenced our new faith walk on 1st January 2000. At that point in time The Gospel Faith Messenger Ministry was going into 55 nations. Today we are in over 220 nations, touching multiplied thousands of lives ~ and we do not know where our next dollar is coming from. Every day this Ministry keeps growing ~ and every month every bill is paid. We have no debts or mortgages, live in a modern home with a modern motor car. All Glory to Jesus! He is true to His word to us.
I share these things with you to encourage you to make sure you have the kind of faith the Bible speaks about ~ and the faith which pleases God ~ so you can accomplish greater things than ever before through faith which comes from hearing God's voice today. When we hear and obey God's voice it all turns out exactly right for His praise and glory. Hallelujah!
Make very sure that you are developing the Bible kind of faith (and not just presuming things) so that you will have a life that testifies of the goodness and reality of God and which produces eternal fruit for God's glory. Hallelujah! Love in His Name and Service ~ Rodney W. Francis.
Bible Readings:    Psalm 29      Hebrews 4:2       Hebrews 11:1-40
Prayer: "Dear Lord Jesus, You have chosen and called us to live for Your glory through a personal relationship with You, which means I need to know Your voice, especially when You are speaking to me. Please help me to be more sensitive to Your voice, as I do desire to be in the centre of Your will for my life; and that can only happen as I hear and know Your voice.Praise You Jesus! I ask this in Jesus' Name. Thank You, Lord Jesus. Amen."
"The Gospel Faith Messenger" Ministry.  PO Box 57, Paraparaumu 5254, New Zealand.  Email This email address is being protected from spambots. You need JavaScript enabled to view it.