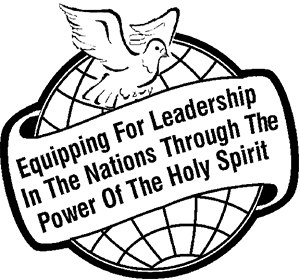 Barnabas Bulletin ~ 0223
THE POWER OF FORGIVENESS
In recent times I have been reminded again of the power of forgiveness and the positive impact it had and has in our lives. When we first gave our hearts to Jesus, and confessed our sins to Him, it was the power of His forgiveness that caused us to be born-again of the Holy Spirit. Until we confessed our sins to Jesus in true heart repentance, the power of His forgiveness was unable to set us free. God's forgiveness to our lives brought about very positive changes within us that have enabled us to establish a personal, daily relationship with Jesus Christ Himself.

True forgiveness brings freedom to us!
To be forgiven by God means that in spite of all we have done previously in our lives up to that time, His grace, mercy, love and forgiveness works a wonderful and positive change within us. "If we confess our sins, He (God) is faithful and just to forgive us our sins and to cleanse us from all unrighteousness" (1 John 1:9).
In the Lord's Prayer it states: "And forgive us our debts, as we forgive our debtors" (see Matthew 6:9-15).
Forgiveness actively and positively working in our lives is very dependent on our ability to forgive others.
Unforgiveness in our hearts allows a negative power to rule within us, and, no matter how right we feel by holding that unforgiveness towards others, that unforgiveness will cause us to finish up just as wrong as the perpetrator who wronged us in the first place. It causes us to be bound-up on the inside and unable to know that truth of Jesus to keep us free. Just as forgiveness has power to set us free, so does unforgiveness have power to bind us up and rob us of a life of freedom and victory. Jesus warned us: "For if you forgive men their trespasses, your heavenly Father will also forgive you. But if you do not forgive men their trespasses, neither will your Father forgive your trespasses" (Matthew 6:14-15).
Jesus taught: "Judge not, and you shall not be judged. Condemn not, and you shall not be condemned. Forgive, and you will be forgiven . . . For with the same measure that you use, it will be measured back to you" (Luke 6:37-38).
Jesus also spoke these words to His disciples: "It is impossible that no offences ("stumbling blocks") should come, but woe to him through whom they do come! It would be better for him if a millstone were hung around his neck, and he were thrown into the sea, than that he should offend one of these little ones. Take heed to yourselves. If your brother sins against you, rebuke him; and if he repents, forgive him. And if he sins against you seven times in a day, and seven times in a day returns to you, saying, 'I repent,' you shall forgive him" (Luke 17:1-4).
"Then Peter came to Him (Jesus) and said, 'Lord, how often shall my brother sin against me, and I forgive him? Up to seven times?' Jesus said to him, 'I do not say to you, up to seven times, but up to seventy times seven" (Matthew 18:21-22).
Christians soon discover that not everyone accepts us and we are going to be criticized and spoken against: "Yes, and all who will live Godly in Christ Jesus shall suffer persecution" (2 Timothy 3:12; Luke 17:1). I have been falsely accused by different people over the years. One time a pastor tried to put a curse on me for telling him that God had asked me to start a church in the town he was pastoring in. I was shocked at what came out of his mouth. On my way back home after that meeting with him, the Lord spoke to me and told me how to forgive him. He told me to "pray for him by name every day out loud and ask God to bless him; and when I could pray that prayer and mean it from my heart I would know that I had forgiven him". I thought that it would be easy, but when I started to pray how God had asked me to, I found that inside of me was something that did not want God to bless that man! It was harder than I thought. But I persevered and came to the place where I could pray for God to bless him ~ and that I really meant it. That prayer released me from harbouring unforgiveness in my heart against him, and God was able to use me in an increasing way after that. That pastor, however, went downhill quite quickly after that. The curse he tried to put on me actually happened to him! God does not tolerate Christians doing such things. The Scripture declares: "Do not be not deceived, God is not mocked: for whatever a man sows, that shall he also reap" (Galatians 6:7-9). This principle applies to everyone, not just Christians. Our responsibility is to forgive them, and let God deal to them their just reward. If we try and do that then we finish up the losers big time!
STRUGGLING CHRISTIANS
It is very sad, but true, that many Christians are struggling in their day-to-day walk with Jesus. They have all kinds of problems that cause them to live "an up-and-down" life. One of the main root causes of these problems is that somewhere in their past something very hurtful has happened to them and they have been unable to forgive those who have caused that hurt.
It is vital that we learn to forgive as quickly as we can.
If we do not forgive those who have hurt us, then God cannot forgive us either, and we then have a blockage in our life that prevents the Lord from giving us the victory that we desperately need.
This message is for every one of us to take heed to. None of us escape having these negative and hurtful experiences. The sooner we can practice genuine forgiveness and put the hurts and offences behind us, the sooner we rise up in the victory which Jesus purchased for us at Calvary's Cross through His death, burial and resurrection. Life is too short to be dwelling on past hurts. We have a life to be lived for the glory of God ~ and that cannot happen when we are harbouring unforgiveness towards others. Give it to God! Let it go! Leave it all on His altar, and you will be amazed at how free you will be, in spite of all that has happened to you in the past. You can do it! You are called to be a winner! God bless you ~ Rodney W. Francis. 
Bible Readings:    Matthew 18:21-22   Mark 11:24-25     Luke 7:44-48    Ephesians 4:31-32
Prayer: " Dear Lord Jesus, I thank You so much that You forgave me of all my sins when I yielded my life to You. You have declared that I must now forgive those who have hurt, abused, criticized me, etc., and so I ask You to give me a heart of obedience to what You have said and a heart of love, compassion and forgiveness towards those who have caused me heart-ache and sorrow. May my forgiveness toward them be full and from the sincerity of my heart, as I do not want there to be any blockages in my life between me and You, Lord. I genuinely ask You to bless all those who have hurt me in Jesus' name. Thank You, Lord Jesus. Amen."
The Gospel Faith Messenger Ministry,  P.O. Box 57, Paraparaumu 5254, New Zealand. Email: This email address is being protected from spambots. You need JavaScript enabled to view it.