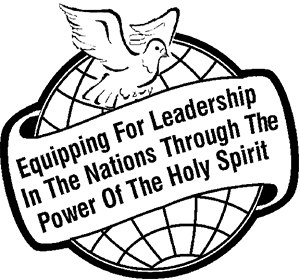 Barnabas Bulletin ~ 0213
OUR FIRST LOVE . . .
In the Book of Revelation Chapter 2:1-7 we have recorded God's Message to the Church of Ephesus, a church that had a reputation that they were a real spiritual group of people. But when we look closer at what the Lord spoke to them about their condition we see that they were very good at discerning the true and false ministry people who came into their midst ~ they had perseverance and patience and were active in serving the Lord. Yet there was one very serious thing that God revealed to them that they had gotten away from ~ their first love. First love is the place that Jesus Christ has to have in our hearts and lives if we are going to totally fulfil His plans and purposes in our lives and churches. They did not lose their first love, but we are told they had left their first love. To lose something can be by accident or by someone else's advice, fault or doing, etc., but to leave our first love is an act of the will ~ our will. It can also happen as a result of other people controlling us or things of the world taking our attention away from a total commitment to Jesus Christ. An example of this is the Parable of the Sower and the seed among the thorns: "And some seed fell among thorns; and the thorns grew up and choked ("to suffocate by crowding") it, and it yielded no crop ("fruit"). Jesus' interpretation of this verse is: "Now these are the ones sown among thorns; they are the ones who hear the word, and the cares of this world, the deceitfulness of riches, and the desires for other things entering in choke the word, and it becomes unfruitful" (see Mark 4:7, 18-19). When Jesus Christ is not Lord of all, then He is not Lord at all within us. We have to learn that all our decisions need to be made in light of the fact of Jesus being our first love.
He must come first in everything.
And when He is our first love then we live every day with the desire to please Him in everything. Everyone and everything else takes second place to our daily relationship and walk with Jesus. When we allow other things to enter into our lives, then our total commitment to Jesus suffers and we start to lose out. We leave our first love and start on a downwards path that leads us to losing all the benefits that we have when Jesus Christ is our first love.
The Church of Ephesus kept being involved in good Christian things and ministries, but it was not motivated by the most important motivation of all ~ that of loving Jesus first and foremost above all else.
Because they had left their first love, the Lord told them they had fallen and repentance was needed to restore them to do the first works again.
Without true repentance they would continue to fall away from the standards of the Gospel and finish up a dead religious organisation (which actually works against the true purposes of God in the New Covenant).
First love is "having an ear to hear what the Spirit is saying" to us and our churches. The phrase: "He that has an ear, let him hear" is written at least 16 times in the New Testament (Matthew 11:15; Matthew 13:9, 43; Mark 4:9, 23; Mark 7:16; Luke 8:8; Luke 14:35; Revelation 2:7, 11, 17, 29; Revelation 3:6, 13, 22; Revelation 13:9), which means it is a major truth that we need to lay hold of, experience and live by. Whatever the Holy Spirit says to us is the Truth and will always be confirmed by the principles of Scripture.
First love is learning to "be led by the Spirit of God" (Romans 8:14) as it is those people who are led by the Holy Spirit who are the true sons and daughters of the Living God.

It is doing ministry and things God's way and not our own.

And when we do things God's way, we will get God's results!
In John 13:34-35 Jesus taught us this: "A new commandment I give to you, that you love one another; as I have loved you, that you also love one another. By this all will know that you are My disciples, if you have love for one another".
In Mark 12:28-31 we read: "Then one of the scribes came, and having heard them reasoning together, perceiving ("seeing") that He had answered them well, asked Him, 'Which is the first ("foremost") commandment of all?' Jesus answered him, 'The first of all the commandments is: Hear, O Israel, the Lord our God, the Lord is one. And you shall love the Lord your God with all your heart, with all your soul, with all your mind, and with all your strength. This is the first commandment. And the second, like it, is this: You shall love your neighbour as yourself. There is no other commandment greater than these" (see also Matthew 22:35-40; Luke 10:25-37; 1 John 2:8-11 and 2 John).
Jesus makes it very clear that "first love" is the first commandment!

When our priorities are different from God's priorities, then we are heading for trouble.

Our first love and priority is to Jesus Christ.
Everyone and everything else has to take second place. Otherwise we are not a true disciple of Jesus Christ.
A true disciple of Jesus is one who not only hears what Jesus says and teaches, but carries a commitment to do whatever He has taught us.

It is a commitment that is demonstrated by action.

It is much more than head-knowledge believing!
Let this message be a means of our re-evaluating where we stand with regards to Jesus' first commandment; that we love Him with all our heart, soul, strength and mind. Having our spiritual priorities right means that we will get the right results and fulfil our destiny here on earth. We are here on earth to fulfil God's purposes, not our own. There is no better way. Life works out so much better when we have Jesus Christ as our "first love" and we do things God's way. There are no regrets when we do things God's way ~ He will bless and surprise us, and use us in wonderful ways. God bless you as you place Him first in your life each day. ~ Rodney W. Francis.
Bible Reading: 1 John Chapter 3
Prayer: "Dear Lord God, I come to You in the Mighty Name of Jesus, and I ask You to help me to keep You as the first love of my life. Please convict me of anything or anyone who comes between You and me, as I know I need to keep You as the first love of my life. Help me to be more sensitive to Your voice so I can quickly pick-up on everything You speak to me, as I do want to fulfil my destiny here on earth; and I know the only way that can happen is for You to have the first place in every part of my life. Thank You, Lord, in Jesus' name I sincerely pray these things, Amen."
The Gospel Faith Messenger Ministry,, New Zealand. Email: This email address is being protected from spambots. You need JavaScript enabled to view it.