Prayer Support Letter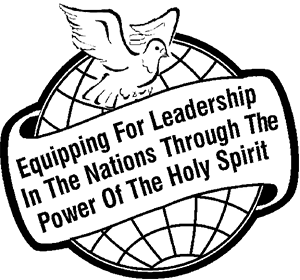 "The Gospel Faith Messenger" Ministry
and Rodney & Jean Francis
Prayer Support Letter 
April  2019
 WELCOME to another Prayer Support Letter from The GFM Ministry. We are living in very different times these days as the coming of the Lord draws nearer, and the world becomes more anti-Christ in its ways. Christians everywhere need to be aware of the hour ~ and that Jesus Christ has saved us for such a time as this. We need to remind ourselves as to who we really are as born-again, Holy Spirit filled believers in Jesus Christ. He told us: "You are the salt of the earth; but if the salt loses its flavour, how shall it be seasoned? It is then good for nothing but to be thrown out and trampled underfoot by men. You are the light of the world. A city that is set on a hill cannot be hidden. Nor do they light a lamp and put it under a basket, but on a lampstand, and it gives light to all who are in the house. Let your light so shine before men, that they may see your good works and glorify your Father in heaven" (Matthew 5:13-16


, NKJV).
These verses reveal that we Christians are saved to make a positive difference to all who are not only around us, but to all the world. Jesus said, and I repeat: "You are the salt of the earth" . . . "You are the light of the world"! Think about that for a while. It is not God's will that we get "trampled underfoot by men" but that we should be shining lights in a world of darkness. Others should be able to see that we are indeed different to how we used to be, and that since Jesus has come into our lives, we are changed individuals who can so shine that others will see we are different and want what we have got.
If we do not know the truth of what Jesus has said and done for us, then we are likely to be locked into our own thoughts, feelings, etc., which will keep us living a life that is far below what Jesus accomplished for us through His death, burial and resurrection. He came to make us new creations so we can shine brightly for and with Him. Jesus has now come to live inside of us. Everywhere we go He goes with us! When we are yielded to His Lordship then anywhere and everywhere He can use us to touch other lives for His praise, honour and glory! It is now "Christ in you/us, the hope of glory" (Colossians 1:27


). With Jesus alive in our hearts we can now be "filled with the knowledge of His will in all wisdom and spiritual understanding; that you/we may walk worthy of the Lord, fully pleasing Him, being fruitful in every good work and increasing in the knowledge of God; strengthened with all might, according to His glorious power, for all patience and longsuffering with joy; giving thanks to the Father who has qualified us to be partakers of the inheritance of the saints in the light" (Colossians 1:9-12


).
What an amazing inheritance we have in Jesus in the here and now. Let us all earnestly seek to fulfil the qualification that He has purchased for us with His own blood. Hallelujah! Have a great month with Him! ~ Rodney W. Francis.
PRAISE REPORTS:
For the printing of 2,000 copies of "Developing Prophetic Ministry" book for distribution in Somali. Enquiries to: Pastor Charles Mwanda (Mombasa, Kenya), E-Mail: pastor

This email address is being protected from spambots. You need JavaScript enabled to view it.

For the printing of 5,000 copies of "School Of The Holy Spirit" and 5,000 copies of "Bible Basics" manuals for distribution in Malawi. Special thanks to the Malawi Assemblies Of God for contributing 50% of the printing costs ($US3,000.00). Enquiries to: Pastor Jones Chamangwana (The GFM Rep. in Malawi) = E-Mail:

This email address is being protected from spambots. You need JavaScript enabled to view it.

For the continuing outpouring of the Holy Spirit throughout East and Central African nations as a result of the books The GFM Ministry has been able to provide. Many thousands have had a life-changing experience with the Holy Spirit and are now speaking in other tongues and exercising the Spiritual Gifts. All Praise to Jesus! Reports are being received daily of amazing things that God is doing there. May it spread to the rest of the world!! (Acts 2:16-21 ).
 COMING EVENTS for APRIL 2019
Tuesday 2nd & 16th: 7:00 p.m. (First and Third Tuesday of the month): The GFM Hamilton Equipping Station meets at the Nawton Presbyterian Church, Livingstone Avenue, Hamilton, NZ. Enquiries to: Dougie & Jackie Hodges, Telephone: 07-846 0684; Cell: 021 140 8081
Wednesday 3rd: 7:00 p.m. (First Wednesday of the month) The GFM Equipping Station is at the home of Bruce and Helen Mitchell, 16 Orchard Grove, Ashburton, NZ. Contact: Bruce & Helen Mitchell, Cell: 022 010 9753 or E-Mail: 

This email address is being protected from spambots. You need JavaScript enabled to view it.
Tuesday 9th: 10:00 a.m. (Second Tuesday of the month): The GFM Kapiti Equipping Station meets at the home of Rodney and Jean Francis, 7 Gandalf Crescent, Paraparaumu, NZ. Enquiries to: Rodney & Jean Francis, Telephone: 04-904 0727; E-Mail: 

This email address is being protected from spambots. You need JavaScript enabled to view it.
Monday 22nd: 7:00 p.m. (Fourth Monday of the month): The GFM Rotorua Equipping Station meets at the Baptist Church, 100-104 Malfroy Road, Rotorua, NZ. Enquiries to: Dougie & Jackie Hodges, Telephone: 07-846 0684; Cell: 021 140 8081; E-Mail: 

This email address is being protected from spambots. You need JavaScript enabled to view it.
Tuesday 23rd: 7:30 p.m. (Fourth Tuesday of the month): The GFM Napier Equipping Station meets at the home of Jewel and Larry Crabtree, 1/7 Gebbie Road, Taradale, Napier, NZ. Enquiries to: Jewel & Larry Crabtree, Phone: 06-844 4163.
Wednesday 24th: 7:00 p.m. (Fourth Wednesday of the month): The GFM Kapiti Equipping Station meets at the home of Rodney and Jean Francis, 7 Gandalf, Paraparaumu, NZ. Enquiries to: Rodney & Jean Francis, Telephone: 04-904 0727; E-Mail: 

This email address is being protected from spambots. You need JavaScript enabled to view it.
 


PRAYER FOCUS for APRIL 2019:

 
For Christians to be more aware of the many challenges and opportunities facing them in these times to make Christ known, and to be more committed in helping to fulfil the Great Commission (Mark 16:15-20 ). Jesus said to His disciples: "The harvest truly is plentiful, but the labourers are few. Therefore pray the Lord of the harvest to send out labourers into His harvest" (Matthew 9:36-38 ). May we all be sincere in our desire for God to use us more and more.
For God's will to continue to be done in The GFM Ministry as we start our 56th year this month. The opportunities are far beyond our abilities and we need to know God's timing and provision to fulfil His purposes abundantly.

That those Christians who are struggling spiritually, emotionally, physically, financially, etc., will know a wonderful breakthrough in God, so they will have testimonies of what a good God can do.
THOUGHTS: "God has shown me that.... while salvation is free, the walk with Jesus is to cost us everything we have" . . ."The only proven way to avoid sin is to develop the character of Jesus in our lives" (David Tait, Webuye, Kenya) .  .  . "Abraham had to keep his mind fixed on both the promise of God and the nature of God, NOT his circumstances" . . . "As a New Testament Christian, you and I are to be led by the Spirit. We are to 'hear' His voice and follow His directives and impressions. You can only get a breakthrough when you respond to what God is saying about that situation" (Kevin Forlong, Sunbury, Victoria, Australia).
ARTICLE:  Some Serious Warnings From Jesus
DONATIONS: If you would like to support The GFM Ministry financially, by direct crediting to "GFM", details are here ~ BNZ, Account: 02-0312-0025784-000. For overseas people the BNZ Swift Code is: BKNZNZ22. Please include your name. (Tax-deductible receipts can be issued for New Zealanders if we have your name and address).
E-Mails and addresses shown in these pages are for the purpose of enquiring about the scheduled meetings only. As a mark of Christian integrity, unless enquiring about specific advertised meetings, please refrain from sending unsolicited letters and E-Mails to the persons named. If you no longer wish to receive our mails, please send an E-Mail with "Unsubscribe" in subject line. Thank you.
 With Love and Blessings from Rodney and Jean Francis, and "The GFM" Team.
 THE BEST IS YET TO COME FOR THOSE WHO BELIEVE THE PROMISES OF GOD!
  Have You Prayed For This Ministry Today?
 "The Gospel Faith Messenger" Ministry.  PO Box 57, Paraparaumu 5254, New Zealand.  Email This email address is being protected from spambots. You need JavaScript enabled to view it.