Prayer Support Letter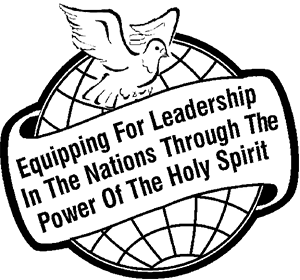 "The Gospel Faith Messenger" Ministry
and Rodney & Jean Francis
Prayer Support Letter 
 JUNE  2019
 We have much to thank and praise God for as He continues to touch many thousands of lives through this Ministry. In a day when many world leaders (and others) are rejecting the Message of Jesus Christ in the power of the Holy Spirit, God is at work doing wonderful things in many places around the world (regardless of what they say). All Christians are called to be a part of getting the true Christian Message out to the peoples, as it is the only Message that can change lives and prepare people in time for all eternity. The Bible is very clear that there is only one Name given under heaven whereby we can be saved: "Nor is there salvation in any other, for there is no other name under heaven given among men by which we must be saved" (Acts 4:12


). Jesus said: "I am the way, the truth, and the life. No one comes to the Father (God) except through Me" (John 14:6


). Many will try and tell us that there are many ways to God; that God so loves everyone that everyone will go to heaven; that the grace of God covers everything, etc. These are deceiving lies and do not line-up with the teachings of the Scriptures.
There is only one way to God and that is through Jesus Christ.
Make very sure you know you are saved and born-again by the Holy Spirit of God!
You can call upon His Name right now and be saved.
No one else paid the price that Jesus did to purchase our redemption/salvation and it is very important that we come to Him by the way which He has chosen for us. His sacrifice on the Cross of Calvary provided for us His precious cleansing blood; the only thing that can wash away our sins. Nothing else can remove sin out of our lives, but the blood of Jesus Christ.
"This is the message which we have heard from Him and declare to you, that God is light and in Him is no darkness at all. If we say we have fellowship with Him, and walk in darkness, we lie and do not practice the truth. But if we walk in the light as He is in the light, we have fellowship with one another, and the blood of Jesus Christ His Son cleanses us from all sin. If we say we have no sin, we deceive ourselves, and the truth is not in us. If we confess our sins, He is faithful and just to forgive us from all unrighteousness. If we say that we have not sinned, we make Him a liar, and His word is not in us" (1 John 1:5-10


).
We cannot find salvation through our own works. It is by the mercy, kindness and love of God towards us: "But when the kindness and love of God our Saviour toward man appeared, not by works of righteousness which we have done, but according to His mercy He saved us, through the washing of regeneration and renewing of the Holy Spirit, Whom He poured out on us abundantly through Jesus Christ our Saviour, that having been justified by His grace we should become heirs according to the hope of eternal life" (Titus 3:4-7


).
I encourage you to search the Scripture for yourself, so you will know the truth of what is being written here. The Scriptures (Bible) are the only true way of confirming whether something is of God or not. Be encouraged to get to know Jesus Christ in all reality more and more. "Behold, now is the accepted time; behold, now is the day of salvation" (2 Corinthians 6:2


).                                 Love in Him ~ Rodney W. Francis.
PRAISE REPORTS:  
For the printing of 2,000 copies of "Developing Prophetic Ministry" books for distribution at The Theological Colleges Conference in Tanzania. Enquiries to: Pastor Charles Mwanda (The GFM Representative in Mombasa, Kenya) = E-Mail:

This email address is being protected from spambots. You need JavaScript enabled to view it.

For the large and positive response we received from the sending out of "The Urgency Of The Hour!" in E-Book form. Several told us they wept as they read it.

For the ongoing reports and testimonies we are receiving as the Holy Spirit moves and impacts people through the books distributed.

For God's guidance, protection and provision to The GFM Ministry over many years (now in our 55th year of operation). 
COMING EVENTS for JUNE 2019:    
Tuesday 4th & 18th: 7:00 p.m. (First and Third Tuesday of the month): The GFM Hamilton Equipping Station meets at the Nawton Presbyterian Church, Livingstone Avenue, Hamilton, NZ. Enquiries to: Dougie & Jackie Hodges, Telephone: 07-846 0684; Cell: 021 140 8081. 
Wednesday 5th:7:00 p.m. (First Wednesday of the month) The GFM Equipping Station is at the home of Bruce and Helen Mitchell, 16 Orchard Grove, Ashburton, NZ. Contact: Bruce & Helen Mitchell, Cell: 022 010 9753 or E-Mail: 

This email address is being protected from spambots. You need JavaScript enabled to view it.
Sunday 9th: 10:00 a.m. Rodney speaking at the Combined Churches Pentecost Sunday Service in Masterton, NZ, being held at the Wairarapa College Hall, 83 Pownall Street. Enquiries to: Pastor Scott Lelievre, Mobile: 027 604 3170; E-Mail: 

This email address is being protected from spambots. You need JavaScript enabled to view it.
Tuesday 11th: 10:00 a.m. The GFM Kapiti Equipping Station meets at the home of Rodney & Jean Francis, 7 Gandalf Crescent, Paraparaumu, NZ. Enquiries to: Rodney & Jean Francis, Telephone: 04-904 0727; E-Mail: 

This email address is being protected from spambots. You need JavaScript enabled to view it.
Thursday 20th: 9:45 a.m. Rodney speaking at Kapiti Coast Aglow meeting at the Presbyterian Church Hall, 43 Ngaio Road, Waikanae, NZ. Enquiries to: Joan Painter, Phone: 04-905 3940; E-Mail: 

This email address is being protected from spambots. You need JavaScript enabled to view it.
Monday 24th: 7:00 p.m. (Fourth Monday of the month):  The GFM Rotorua Equipping Station meets at the Baptist Church, 100-104 Malfroy Road, Rotorua, NZ. Enquiries: Dougie & Jackie Hodges, Telephone: 07-846 0684; Cell: 021 140 8081; E-Mail: 

This email address is being protected from spambots. You need JavaScript enabled to view it.
Tuesday 25th: 7:30 p.m. (Fourth Tuesday of the month): The GFM Napier Equipping Station meets at the home of Jewel & Larry Crabtree, 1/7 Gebbie Road, Taradale, Napier, NZ. Enquiries: Jewel & Larry Crabtree, Phone: 06-844 4163.
Wednesday 26th: 7:00 p.m. The GFM Kapiti Equipping Station meets at the home of Rodney & Jean Francis, 7 Gandalf Crescent, Paraparaumu, NZ. Enquiries to: Rodney & Jean Francis, Telephone: 04-904 0727; E-Mail: 

This email address is being protected from spambots. You need JavaScript enabled to view it.
Sunday 30th: 10:30 a.m. Rodney speaking at the "Te Puna o Wai Ora" Maori Fellowship, 150 Puriri Street (on corner of Kowhai Street, Whanganui, NZ. Enquiries to: Ps. Eugene & Kay Katene, E-Mail: 

This email address is being protected from spambots. You need JavaScript enabled to view it.
 PRAYER FOCUS for JUNE 2019:    
For greater breakthroughs in getting the printed page (books and literature) out to the nations. The needs are huge, and the requests for more keep coming in.
For more Christians to be willing workers with Jesus to gather in the harvest before it is too late. "The harvest is plentiful, but the labourers are few" (Matthew 9:36-38 ).
For more Christians to experience the supernatural workings of God in and through their lives. 
THOUGHTS:
 "Time is more precious than gold, for it cannot be bought at any price" . . . "Salvation is instant, but developing godly character takes a lifetime" ~ David Tait(Webuye, Kenya). . .  "We shall have eternity in which to celebrate our victories, but we only have one swift hour before sunset in which to win them!" ~ Anonymous . . . "As a New Testament Christian, you and I are to be led by the Spirit. We are to 'hear' His voice and follow His directives and impressions. You can only get a breakthrough when you respond to what God is saying about that situation" ~ Kevin Forlong (Sunbury, Victoria, Australia).
ARTICLE:   Earnestly Desiring What God Has Given To Us
DONATIONS:                                                                                                                                                                                                                                                                                                                            If If you would like to support The GFM Ministry financially, by direct crediting to "The GFM", details are here ~ BNZ, Account: 02-0312-0025784-000. For overseas people the BNZ Swift Code is: BKNZNZ22. Please include your name. (Tax-deductible receipts can be issued for New Zealanders if we have your name and address).
E-Mails and addresses shown in these pages are for the purpose of enquiring about the scheduled meetings only. As a mark of Christian integrity, unless enquiring about specific advertised meetings, please refrain from sending unsolicited letters and E-Mails to the persons named. If you no longer wish to receive our mails, please send an E-Mail with "Unsubscribe" in subject line. Thank you.
With Love and Blessings from Rodney and Jean Francis, and "The GFM" Team.
THE BEST IS YET TO COME FOR THOSE WHO BELIEVE THE PROMISES OF GOD!
Have You Prayed For This Ministry Today?
 "The Gospel Faith Messenger" Ministry.  PO Box 57, Paraparaumu 5254, New Zealand.  Email This email address is being protected from spambots. You need JavaScript enabled to view it.