Prayer Support Letter
  "The Gospel Faith Messenger" Ministry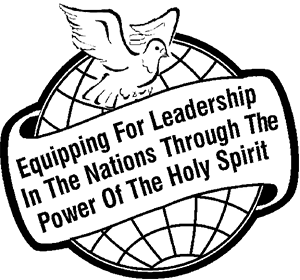 and Rodney & Jean Francis
Prayer Support Letter 

NOVEMBER 2019
 Greetings to all our Readers in Jesus' Wonderful Name! It is such a privilege to serve the Lord in these days. Many opportunities for the Gospel are still available, and we (every born-again, Holy Spirit-filled believer) are commissioned by Jesus Christ to take His message to all the nations of the world, and then the end will come (Mark 16:15-20; Matthew 24:14). As we listen to the voice of the Holy Spirit, He will lead and guide us into exactly what the Lord has saved us for, and to do. We do not have time to be sitting around making excuses. We all have a part to play. Daily we are receiving wonderful testimonies and reports of people being filled with the Holy Spirit and speaking in tongues ~ not only when someone prays for them, but as they are reading one of my books, or listening to someone preaching from a book, numbers get sovereignly filled with the Holy Spirit. Recently a number (80 percent) of Catholic Youths in a meeting in Uganda were sovereignly filled with the Holy Spirit as the preacher preached from "The 'Dunamis' Power of God!" booklet. Now the youths are requesting 12,000 copies of the booklet to distribute amongst other youths. Please pray that we will be able to supply these to them.
The GFM Prisons Representative in Kenya and Uganda, Peter Ndegwa, continues to do a marvellous work for the Lord in his Prisons Ministry. Scores of prisoners are going through the 3 Bible Correspondence Courses and our books (especially "Bible Basics" and "Counselling And Deliverance") are being distributed to those inmates. Numbers are giving their lives to Jesus.
Another amazing happening of late is that some Secondary Schools in East Africa are now teaching their pupils from my "Developing Prophetic Ministry" book. We have also received information that 56 Theological Colleges in Uganda, Tanzania and Burundi have my books as part of their syllabus now. All Praise to Jesus!
These are just some examples of what is happening through this Ministry. Our Team of volunteer workers in numbers of nations are doing wonderful things as they reach out to touch lives for Jesus through the power of the Holy Spirit. Please keep these ones in your prayers.
When we are obedient to the Holy Spirit, we are allowing God to work in and through us in ways that we cannot accomplish ourselves. Obedience to the Holy Spirit releases the God-factor to be released and wonderful results happen. Christian leaders, especially, need to know that when we are obedient in doing what God asks of us, then He (God) supplies the finances to enable us to do what He says. Here is a challenging verse for every one of us to consider and meditate on: "And my God shall supply all your need according to His riches in glory by Christ Jesus" (Philippians 4:19). Just think about "His riches in glory by Christ Jesus" – how much is that? Let us prove the truth of God daily. God bless you. ~ Rodney W. Francis.
PRAISE REPORTS:
For the printing of 5,000 copies of "School Of The Holy Spirit" manual and 5,000 copies of "Counselling And Deliverance" book for "Scripture Union" (Malawi). They have contributed $US3,000.00 (50%) of the printing costs. Many thanks. Enquiries to: Pastor Jones Chamangwana (The GFM Representative in Malawi) = E-Mail:

This email address is being protected from spambots. You need JavaScript enabled to view it.

For the printing of 5,000 copies of "School Of The Holy Spirit" manual and 5,000 copies of "Bible Basics" manual for distribution in Malawi. $US3,000.00 (50%) of the printing costs has been covered. Many thanks to Mr. Jervis Potani (Blantyre) for this contribution. Enquiries to: Pastor Jones Chamangwana (The GFM Representative in Malawi) = E-Mail:

This email address is being protected from spambots. You need JavaScript enabled to view it.

For the printing of 3,000 copies of "School Of The Holy Spirit" manual in Mombasa, Kenya, for distribution amongst the Refugees (name withheld for safety reasons). Enquiries to Pastor Charles Mwanda (Mombasa) = E-Mail:

This email address is being protected from spambots. You need JavaScript enabled to view it.

For the printing of 2,500 copies of "School Of The Holy Spirit" manual and 2,500 copies of "Bible Basics" manual for the "Endtime Evangelism Ministry" in Mzuzu, Malawi. Special thanks to them for contributing all of the printing costs ($US3,000.00). Enquiries to: Pastor Jones Chamangwana (The GFM Malawi Representative) = E-Mail:

This email address is being protected from spambots. You need JavaScript enabled to view it.

For the printing of Rodney's article (in BB~225) "Are You Ready To Meet God?" in the "Elim Pentecostal Churches of Italy" magazine in the Italian language. Thanks to Pastor Giuseppe Piccolo (Milan, Italy).
COMING EVENTS for NOVEMBER 2019:
Tuesday 5th & 19th: 7:00 p.m. (First and Third Tuesday of the month): The GFM Hamilton Equipping Station meets at the Nawton Presbyterian Church, Livingstone Avenue, Hamilton, NZ. Enquiries to: Dougie & Jackie Hodges, Telephone: 07-846 0684; Cell: 021 140 8081.

Wednesday 6th: 7:00 p.m. (First Wednesday of the month) The GFM Equipping Station is at the home of Bruce and Helen Mitchell, 16 Orchard Grove, Ashburton, NZ. Contact: Bruce & Helen Mitchell, Cell: 022 010 9753 or E-Mail: 

This email address is being protected from spambots. You need JavaScript enabled to view it.



Sunday 10th: 3:00 p.m. The GFM Hawera Equipping Station is being held at the "Hawera Presbyterian Church," corner of Argyle and High Street (opposite Subway), Hawera, NZ. Enquiries to: Kathy Ogden, E-Mail: 

This email address is being protected from spambots. You need JavaScript enabled to view it.



Tuesday 12th: 10:00 a.m. The GFM Kapiti Equipping Station meets at the home of Rodney & Jean Francis, 7 Gandalf Crescent, Paraparaumu, NZ. Enquiries to: Rodney & Jean Francis, Telephone: 04-904 0727; E-Mail: 

This email address is being protected from spambots. You need JavaScript enabled to view it.



Tuesday 12th & 26th: 7:30 p.m. (Second and Fourth Tuesday of the month): The GFM Napier Equipping Station meets at the home of Jewel & Larry Crabtree, 1/7 Gebbie Road, Taradale, Napier, NZ. Enquiries: Jewel & Larry Crabtree, Phone: 06-844 4163.

Monday 25th: 7:00 p.m. (Fourth Monday of the month):  The GFM Rotorua Equipping Station meets at the Baptist Church, 100-104 Malfroy Road, Rotorua, NZ. Enquiries: Dougie & Jackie Hodges, Telephone: 07-846 0684; Cell: 021 140 8081; E-Mail: 

This email address is being protected from spambots. You need JavaScript enabled to view it.



Wednesday 27th: 7:00 p.m. The GFM Kapiti Equipping Station meets at the home of Rodney & Jean Francis, 7 Gandalf Crescent, Paraparaumu, NZ. Enquiries to: Rodney & Jean Francis, Telephone: 04-904 0727; E-Mail: 

This email address is being protected from spambots. You need JavaScript enabled to view it.
 PRAYER FOCUS for NOVEMBER:
For Christians to be more mindful that the Great Commission of taking the Gospel to the ends of the earth still applies today.

That Christians will not doubt the voice of God and be more willing to obey whatever He asks of us.

That we will be able to fulfil the many requests we are receiving for books. God is using the books to impact thousands of lives in different nations, but especially in the African countries right now.

Pray for all the voluntary workers that make The GFM Ministry what it is today. We thank God for everyone who is helping to get the Message out to the nations.

For the more than 160 "Prophetic Equipping Stations" now functioning throughout Africa. Pray the Holy Spirit will lead and guide in every one of them. Great things are happening in them.
THOUGHTS: "We shall have eternity in which to celebrate our victories, but we only have one swift hour before sunset in which to win them!" ~ Anonymous . . . "Challenge and opportunities are bedfellows. For the one is inevitably born out of the other" ~ David Tait (Webuye, Kenya) . . . "When you look at the inner workings of electrical things you see wires. Until the current passes through them there will be no light. That wire is you and me - the current is God. We have the power to let the current pass through us, use us, to produce the light of the world (Jesus) in us ~ or we can refuse to be used and allow darkness to spread" ~ Mother Teresa.
ARTICLE:    Jesus Came To Give Us Victory
DONATIONS: If you would like to support The GFM Ministry financially, by direct crediting to "The GFM", details are here ~ BNZ, Account: 02-0312-0025784-000. For overseas people the BNZ Swift Code is: BKNZNZ22. Please include your name. With new regulations from Inland Revenue Department we are unable to give receipts for Tax refunds.
(November, 2019). This PRAYER LETTER is a monthly communication sent into at least 120 nations. If you wish to be on our E-Mailing list, contact us This email address is being protected from spambots. You need JavaScript enabled to view it.           To unsubscribe send an This email address is being protected from spambots. You need JavaScript enabled to view it.      ~ Thank you.
With Love and Blessings from Rodney and Jean Francis, and "The GFM" Team.
THE BEST IS YET TO COME FOR THOSE WHO BELIEVE THE PROMISES OF GOD!
Have You Prayed For This Ministry Today?
 "The Gospel Faith Messenger" Ministry.  PO Box 57, Paraparaumu 5254, New Zealand.  Email This email address is being protected from spambots. You need JavaScript enabled to view it.